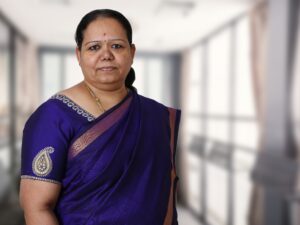 Partner/ Audit & Assurance
Experience Summary
Geetha is a Partner with the Audit & Assurance practice.

She has over 26 years of professional experience including 22 years with larger accounting firms.

She has rich experience in handling audits of many listed companies in India, subsidiaries of SEC Listed entities, apart from unlisted companies in India.

Being active in Indian GAAP, IFRS and USGAAP for several years, she has a very rich experience in auditing organisations in various sectors. Geetha has been working across different industries such as manufacturing, consumer business, construction and real estate.

She is adept in reporting skills and cross border communications and have led discussions with inter office teams abroad.

Geetha has led Internal Financial Controls engagements and Ind AS advisory engagements.

She is part of Expert advisory committee on Company law matters of Madras Chamber of Commerce in India.
Professional Affiliations
Member, Institute of Chartered Accountants of India (ICAI)
Education
Fellow Chartered Accountant – ICAI
Bachelor of Commerce